Show articles 11-20 of total 20

[A couple with a small child]



[Plate published for "Des welt-berühmten Hertzog Wilhelms von Newcastle Neu-eröffnete Reit-Bahn.." Wilhelm Hertzog von Newcastle. Guillaume Duc de Newcastle.]



Carl IX och Gustaf Adolf som Barn.



Eh bien oui....! Charbonnier est maitre chez lui.



Het Hoog en Lager-Huys van Engelandt.



Sveas sorg vid Gustaf Adolf den stores stoft.



And as he reasoned of righteousness, temperance and judgement to come, Felix trembled [Paul before Felix]



Maria Eleonora vid Gustaf II Adolfs lik.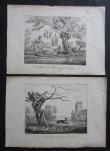 Les poissons et le Berger qui joue de la flûte [and] Le lièvre et les grenouilles.



[Livia Doria Carafa de Rocella] Livia ab aura karapha S. R. I. et amphisiensium pr. rapta VI kal. feb. (..) CCLXXV IIII AN N XXXIIII.


Show articles 11-20 of total 20