New Arrivals April 16
Show articles 11-20 of total 17
Fotografier öfver Göteborg.


Christiania. Taken with a camera obscura by an officer of the danish army.


Voyage á travers les populations empressées.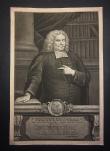 M. Tobias Winckler ecclesiae evangelicae per 47 an: nos minister et ad Div. Mariae per 37 anos Pastor. Natus anno 1648. die 31 Iulii. Denatus 1720 die 2 Iunii anno aetatis 72do.



Karta öfver staden Karlskrona med dertill lydande egor (..).

Show articles 11-20 of total 17