Show articles 11-20 of total 13

[Text only] Svensk Botanik, utgifven af J. W. Palmstruch, med text författad af O. Swartz. Sjette bandet.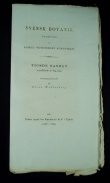 [Title and indexes to the tenth volume of] Svensk Botanik utgifven af Kongl. Vetenskapsakademien. Tionde bandet innehållande N. 649-720 sammanfattadt af Göran Wahlenberg och texten tryckt hos Palmblad & C. I Upsala 1826-1829.



Naturens och mennisko-snillets undertverk


Show articles 11-20 of total 13